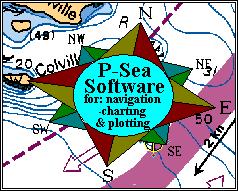 Brought to you by P-Sea Software Co. USA
PO Box 1390
Morro Bay, CA 93443
Ph.# (805) 772-4396


---
Boundary Download Page
---
Work in progress...
Do not download these directly to your working computer unless you put all downloads in a seperate folder all by itself. It is best to use a flash drive or memory stick and download them to that. Then, plug the memory stick on your working WindPlot II/Max computer and open up Boundary Builder. We also suggest using the latest version 7.20. Just be sure to have 7.19 or better when installing 7.20. in the Mark Menu. Set the drive letter to your memory stick and click on GET, it should get it from there.
---
Donated Boundary
(Came from a department of NOAA. Has EEZ zones)

Donated Boundaries
---
West Coast
For CA MPA's: Download the file and run it on the computer with WindPlot version 2.27 or better. Then to turn them on, click on WindPlot's OPTIONS menu and select FISHING BOUNDARIES, Next click on the NOAA Shape File Boundaries and check the SHAPE FILES ON. You should see the MPA's listed here.

California MPS's
Tow Boat Lanes
---
East Coast
Part 648.81 Multispecies closed area & measures to project EFH
#1 Rolling Closure #1 March 1-31
#2 Rolling Closure #2 April 1-31
#3 Rolling Closure #3 May 1-31
#4 Rolling Closure #4 June 1-31
#5 Rolling Closure #5 Oct.1-Nov.30
#6 GB Seasonal Closure May 1-31
#7 Western GOM Closed Area
#8 Cashes Ledge Closed Area
#9 GB & Southern New England Closed area #1
#10 GB & Southern New England Closed Area #2
#11 GB & Southern New England: Nantucket Lightship Closed area
#12 Year Round EFF: Western GOM Habitat Closed area
#13 Year Round EFF: Cashes Ledge Habitat Closed area
#14 Year Round EFF: Jeffery's Bank Habitat Closed area
#15 Year Round EFF: CA1 North Habitat Closed area
#16 Year Round EFF: CA1 South Habitat Closed area
#17 Year Round EFF: CA2 Habitat Closed area
#18 Year Round EFF: Nantucket Lightship Habitat Closure
#19 Hudson Canyon Sea Scallop Access Area
#20 Elephant Trunk Access Area Closed Sept.1-Oct.31
#21 Delmarva Scallop Rotational Closed to 2/28/2010
All of the above in ZIP format
---

Back to P-Sea Software Home page

webinfo@p-sea.com