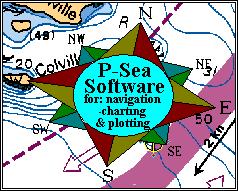 GPS Chart Plotter with Moving Maps for Marine Navigation
Brought to you by P-Sea Software Co. USA
PO Box 1390
Morro Bay, CA 93443
Ph.# (805) 772-4396
---

Download Software - updates - charts - drivers and more.
Compatible chart informaton: Type of charts and geographical locations for ordering.
Price list - documents-dealers - where to get help and more
List of SOME key features in WindPlot

Write us a question, comment. Mail will be distributed to proper department.
Download demos on Software and options for our software.
---



---
P-Sea WindPlot is a commercial fishing software program that can display many types of raster and vector nautical charts called moving maps, including; C-Map and Navionics World-Wide vector Charts,MapTech, BSB'S CHS/NDI or NOS/NOAA and our own 2D and 3D bathymetrics. With ARPA Radar ovelay, AIS tracking, FishFinder and Bottom Charactericstic Options
---
---
9-24-2022 Our power and phone lines may be out for a few days. Please contact us via Email: greg385@gmail.com will not be able to ship during this time<\B>
---
AIS Making screen blink? Click here!
---
Just connect the cable that is provided with the package to your GPS and the program will automatically update your position on the computer screen in relation to the nautical chart. Charts automatically load and position themselves according to your vessel's location. Unlike most similar programs that have only a limited number of scales, WindPlot allows the user to select just about any range desired. P-Sea WindPlot is designed to run on 98SE, ME, XP, 2000pro, Vista and Windows 7 or 8 (32 or 64 bit).
---
Ver.726+: P-Sea FishFinder Marks a Snap-Shot of the screen on WindPlot. Improved CPA speed on AIS targets too. Click here
Click here to download and try 7.29
---
New and improved 3D in High Def. (Click here)
IMPORTANT NOTE: NEW 3D coverage of Alaska - Click CHARTS button above!
---
Note for new computers for 3D operation - please click here and read!
---
C-Map charts Baja Mex.Click here
---
Free NOAA charts in download section
CLICK HERE
---
AIS tracking option brochure download, click here: brochure (380KB)
---

See Related Sites for a new WindPlot Keypad!

---
P-Sea FishFinder
1000 watt/dual-frequency black box depth sounder
with bottom classification ability and A-Scope
Temperature reading down to the 100th of a degree
AVAILABLE NOW!
Fish detection tested past 180 fathoms with still 30% of gain control left w"FULL_Install729.htm"hen used with a Airmar B260 transducer.
Click here 7.14 features for more details
Click here for a P-Sea FishFinder Brochure in PDF format
---
High Resolution 3D & Low-Power 3D Mode! Yes, just what the 3D users have been asking for, 3D in high-resolution. Just ask for version 7.29 now. Use 3D when zoomed to .1 mile range! WOW! Version 7.29 3D offers a INDEPENDENT range so you can change ranges without disturbing the 3D display.
3D no longer runs the computer's processor at 100% which means lower power consumption and less heat problems and it runs faster, works now with new Celron computers!!!
We are also now providing the 3D chart data on High Def. DVD's.
---
FULL 3D - DEMO NOW AVAILABLE!!!!! (Click HERE for details)
Click here for a P-Sea 3D Brochure in PDF format
We now have a 3D option available for WindPlot II or MAX users. We have a data base for the Gulf of Mexico, Eastern seaboard and Pacific coastlines. It can also create and modify existing bottom profiles using your sounder. The boat and the depth scale shown in these screen shots move as the vessel moves. Charts are imbedded in the bottom profile. Colors can change with bottom depth. Panning and zooming is done using the right and left buttons of the mouse. NOW WITH WORLD WIDE COVERAGE WHEN ZOOMED OUT PAST 50 MILES FREE! See CHARTS for current coverage.
---
Split screen using TWO MONITORS doubles your money. Call for details
Check this out!: (click here for split radar screen shot)
(click here for split 3D screen shot)

---
2D bathy chart with 3D highlights (Note:Just two charts, see Limited coverage!) (click here for screen shot)
---
WARNING! P-Sea WindPlot may not be compatible with Windows NT.
(It is compatible with Windows ,XPpro, 2000pro, Vista and Windows 7 or 8 - 32 or 64 bit)
---
From customers E-mail:
Quote: "Just a little fan mail. Your program is the greatest advance in wheelhouse technology in a long time. I buy your stuff through Georges in Charleston Or. I have lots of suggestions and questions that I wont mention now. Bill says you are working nights and weekends on improvements and new features and are plenty busy. Keep up the good work.

Glynn McCready
F/V Betty A."
End Quote
---
First of all let me say that you have a very good navigation program especially for us commercial fisherman. I have been using your Windplot V6.65 for several years now and could not get by without it now. I am a shrimp boat captain in the Gulf of Mexico with our home port in Ft. Myers Beach, Florida. I am currently captain of the F/V High Life in a fleet owned by Trico Shrimp Inc. My boss had me test your product since he has a large fleet and the use of GPS and good navigation equipment has reduced many of our operating expenses.

Thanks,
Capt. Mark B. Grunwald

---
A letter from one of our customers:
F/V Lori B
Michael P Leary
E-Mail: CBAT@TTLC.NET
Quote: RE:AP INTERFACE
Last trip we had great success pinpointing certain bottom hardness that was holding fish and finding the same bottom nearby that produced some great fishing. Keep up the good work and if I have more ideas I will pass them along.
END QUOTE:
We asked if we could print his letter and he responded:
Quote:
Yes it is OK to print the letter I sent you. If I have any more ideas I will E-mail you. It would be great to be able to tweak the number of colors in the color threshold. The colors are so close together that it is really hard to pinpoint the exact bottom that is worth returning to for a closer look. We landed this morning and we found on this trip the fish were hanging on the edge of the hard bottom. Last trip the fish were on the hardest part. With a quick adjustment we were able to double the catch by using the plotter and the AP sonar and running the nets up against the hard bottom but not on the hard bottom. With limited days and unheard of prices(1.95 large poll=about .70 this time last year) I really like the new capabilities of the plotter.
Thanks...Mike..
END QUOTE

---

Automatic Loran TD overlay!
Overlay TD loran lines anywhere, with or without charts and from any GPS or loran!
---
We have also improved waypoint and route capabilities! Create unlimited waypoints 8 different ways and unlimited routes in 4. Find out not only the time it will take to complete a route but also the date and time of arrival.
---
Also, it is no longer necessary to switch chart modes to see where you are! Now with just a click, you can instantly find out where you are using either the WORLD or US regional chart that is included with the P-Sea WindPlot program.
---
We are pleased to announce that our chart plotter software now supports an all TD mode. In this mode, present position, marks, waypoints and cursor are all displayed in loran TD coordinates. Our software also uses MapTech, BSB/NOAA, BSB/CHS, CHS vector, along with our own line of vector and raster bathymetric charts.
---
Picture clips of special features (see for yourself):
P-Sea WindPlot II 7.18 and 7.19 devoted to improving performance on all functions and to make Vista easier to use with WindPlot.

Version719.pdf 7.19 P-Sea WindPlot II/MAX instructions

P-Sea WindPlot II/MAX 7.25 features in PDF form.

P-Sea WindPlot 7.26-7.27 features in PDF form. 1) Improved dragging of multiple windows within windPlot.
2) You can change font size of AIR/ARPA targets. 1) Improved GPX mark & track import/export.
2) New P-Sea MPA Importer software to convert NOAA MPA shape files to work with WindPlot boundary builder.


A condinst list of most features.
Selectable and sizable vessel icons.
Display everything in Loran TD's with any GPS or loran.
Overlay TD loran lines anywhere, with or without charts!
3D Option w/World-Wide coverage
American Pioneer/JRC Bottom Characteristics display
Split screen operation
Windows style pop-up button bar

Real voice speaks out when alarms sound
Point and Click Hot Spots
Analogue Compass
Tide forecaster
Track color can be linked to speed, depth or temperature
Mark symbol Editor
Loran TD storage and conversion
Waypoint and route setup window
Graphical 3-D cross track error
Built-in world map
Multiple screen resolutions
FULL Radar/Plotter/ARPA overlay option
Radar Tracking or ARPA (when connected to external radar)
Temp. or Depth printed at location of mark
Create fishing boundary chart overlay
P-Sea FishFinder Brochure
brochure (380KB)

P-Sea Software. Bathymetric charts from the East, West and Gulf Coast
---
Further Information
---
P-Sea Software and this \Web Site is produced by P-Sea Software Co. (Copyrighted)

P-Sea Software Co. USA
P.O. Box 1390
Morro Bay, CA 93443

Fax: (805) 772-5253
Phone:(805) 772-4396
Orders:(800)88 RADAR

Hours:8:30am to 2:00pm PST, Monday-Friday
---
If you would like more information, leave us a note by
clicking here:

Sales@p-sea.com