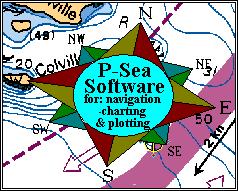 Brought to you by P-Sea Software Co. USA
PO Box 1390
Morro Bay, CA 93443
Ph.# (805) 772-4396


---
Technical Help Page
---
Most problems with programs can be handled with a quick call to P-Sea Software Co. at (805) 772-4396. Our hours are 9am to 5pm, Monday thru Friday Pacific Standard Time Or you can click on the mailbox below to leave us a message as to the nature of your problem. We check or E-Mail quite often Email: greg@p-sea.com


Please be sure to have the following ready; 
	1) The program Version number
	2) The computer make, model, processor (Celron, 486, Pentium...) and speed
	3) Windows version (98SE,ME,XP,2000pro, Vista, Win7 or Win8)
	4) Program serial number
	5) An accurate description of the problem

---
Jumping Mouse?
There are 3 things you can try to get rig of the jumpting mouse.
Start Computer before turning on any NMEA0183 data (GPS)
Get it jumping and turn GPS off. Disable the "Serial Ballpoint Mouse" in the "Mice and other pointing devices" found in the Windows "Device Manager"
For the more experienced computer opterator you can open "REGEDIT". Navigate to HKEY_LOCAL_MACHINE\SYSTEM\CurrentControlSet\Servic es\SerMouse, and change the value "Start" from 3 to 4. Reboot.
---
FREE IN-HOUSE SERVICE

We also provide you with a free in-house diagnosis should the problem not be solved over the phone! However, any parts needed to complete a repair and freight are not free. You only need to send us the computer main frame and an explanation of the problem. If it is a new computer, please include any disks that came with the computer. We usually can get the problem resolved and sent back the same day!
---

Back to P-Sea Software Home page

help@p-sea.com