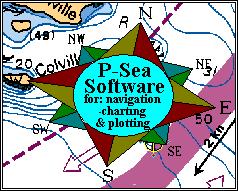 Brought to you by P-Sea Software Co. USA
PO Box 1390
Morro Bay, CA 93443
Ph.# (805) 772-4396


---
Version 7.05 (P-Sea WindPlot II) features



P-Sea WindPlot 1 users NOTE: This is considered an upgrade from any version less than 7.0x at a list price of $100.00 USD. A key (dongle) exchange is NOT required for Navioncs or P-Sea keys. Ask your local P-Sea Dealer for details.
---
Windplot II users NOTE: We have found several problems with new editions SoftChart and the new BSB4 charts and have had to come out with a Edition 2 patch for the 7.05 version. If you experience trouble with zooming out or panning then please call and ask for a free update to 7.05 edition 2 that will correct these problems.
---
Customizable Track and Marks colors

Marks and track colors are customizable with up to 124 colors. You choose how many and what colors you want or choose from a pre-made rainbow of colors. Multi-color track mode is set with 14 or 92 colors.
---
BSB4 Compatibility
The most popular charts for WindPlot, Maptech BSB format charts have changed to a new BSB4 format. These charts will not run unless you have P-Sea WindPlot II version 7.05 or better! The main difference between the charts is now they have to be registered and will only be allowed to run on one computer.
---
SoftChart Compatibility
Softcharts are navigational charts look and work and act just like Maptech's BSB versions but do not have to be registered and are a little cheaper now. They do not come with any other charts.
---
Maptech Topo and NavPhoto Chart Compatiblity
P-Sea WindPlot is now compatible with the Topo and NavPhoto Charts Maptech includes with the BSB4 charts.
---
---

Back to P-Sea Software Home page

webinfo@p-sea.com