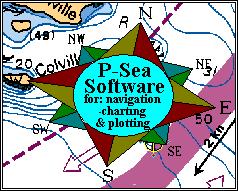 Brought to you by P-Sea Software Co. USA
PO Box 1390
Morro Bay, CA 93443
Ph.# (805) 772-4396


---
Version 7.08 (P-Sea WindPlot II) features



P-Sea WindPlot 1 users NOTE: This is considered an upgrade from any version less than 7.0x at a list price of $100.00 USD. A key (dongle) exchange is NOT required for Navionics or P-Sea keys. Ask your local P-Sea Dealer for details.
---
Koden Ethernet Radar Interface Introducting a new Ethernet Radar interface that will work with the Koden 4kw RADARpc dome or larger antennas (existing RS422 interface users can get a eithernet black box upgrade). This provides for more function besides all the old functions (like ARPA tracking and Radar-Chart overlay); Real Mode display showing the actual live sweep, dual-range, dual-monitor and a fast 48 rpm antenna sweep just to mention a few.
---
Electronic Logbook
NOAA Fisheries Cooperative Research Partners Initiative (CRPI) has requested P-Sea Software to add a electronic logbook to the P-Sea WindPlot II program. This logbook will be available to all users of P-Sea WindPlot II. Some features of this logbook are: Catch, Effort and Utilization pages, current Moon phase and tides are recoded. Depth is also recoded if connected to a depth sounder or 3D is installed. There is also a ACR temperature probe interface built in the Logbook as well. It just completing the testing phase now.

---
Electronic Voice
New Microsoft electronic voice now announces all help menus and more. There are several male and female voices to choose from, depending on your computer platform.
---
P-Sea Bridge Watch
Set a password for the captain then enter in the number of minutes of the watch. A display counts down the minutes in one corner of the plotter window. The operator needs to click the RESET button before the 20 minutes in order to reset the countdown. A visual alarm flashes the last minute and then a the digital voice wakes the captian.
---
US FISHING ZONES for Boundary Builder Fred Kyle of NOAA has provided P-Sea Software Co. with the US fishing zones in a form that works in WindPlot II Boundary Builder. This version of 7.08 will automatically install these in any new program (requires the first 11 boundaries to be empty).
---
ECC Globe Mark Import ECC Globe Mark Import has been added to the Mark Search & Edit of WindPlot II.
---
Note: Version 7.07 was suppose to be out with a Navionics chart capability. Navionics has not been able to supply charts for P-Sea Software Co. so we skipped to version 7.08.


---

Back to P-Sea Software Home page

webinfo@p-sea.com