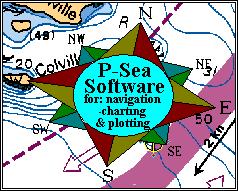 Brought to you by P-Sea Software Co. USA
PO Box 1390
Morro Bay, CA 93443
Ph.# (805) 772-4396


---
Version 7.10 (P-Sea WindPlot II) features



P-Sea WindPlot 1 users NOTE: This is considered an upgrade from any version less than 7.0x at a list price of $100.00 USD. A key (dongle) exchange is NOT required for Navionics or P-Sea keys. Ask your local P-Sea Dealer for details.
---
Updated Fishing Logbook
NOAA updated the CRPI fishing logbook and data base
---
New Radar GUI
We added a new full screen radar interface in efforts to simplify the radar operation. Buttons are oversized to accomodate touch screen.
---
KODENpc Real Radar finished
Finished real radar mode so it works in overlay and ARPA tracking modes.
---
NEW DEMO ON CD AVAILABLE WITH 3D, NAVIONICS, FISHING LOGBOOK AND REAL RADAR DEMOS
---

Back to P-Sea Software Home page

webinfo@p-sea.com