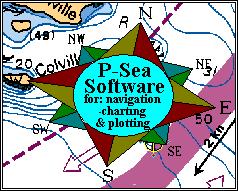 Brought to you by P-Sea Software Co. USA
PO Box 1390
Morro Bay, CA 93443
Ph.# (805) 772-4396


---
Version 7.11 (P-Sea WindPlot II) features



P-Sea WindPlot 1 users NOTE: This is considered an upgrade from any version less than 7.0x at a list price of $100.00 USD. A key (dongle) exchange is NOT required for Navionics or P-Sea keys. Ask your local P-Sea Dealer for details.
---
AIS option now available
Display AIS targets when connect to a AIS unit. Ships are displays as icons that change color depending on their speed. Optional information like ship's name, call sign, vessel size and more can be displayed with ARPA info.
---
BSB4 Skewed charts now work
---
Improved Navionic vector chart operation
---
New FORCE RANGE check box
When this option is checked in the WindPlot range box, the range you enter is maintained no matter what chart is displayed. Transducer pattern in 3D
See the estimated size of the transducer cone when using 3D. New 3D ship's icon looks more like a fishing boat
More Track Hardness options added



---

Back to P-Sea Software Home page
webinfo@p-sea.com