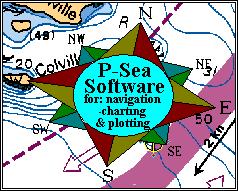 Brought to you by P-Sea Software Co. USA
PO Box 1390
Morro Bay, CA 93443
Ph.# (805) 772-4396


---
Version 7.12 (P-Sea WindPlot II) features



P-Sea WindPlot 1 users NOTE: This is considered an upgrade from any version less than 7.0x at a list price of $100.00 USD. A key (dongle) exchange is NOT required for Navionics or P-Sea keys. Ask your local P-Sea Dealer for details.
---
Video Recorder
The new video recorder takes a snap-shot picture of your computer screen and stores them as a JPEG picture file at timed intervals you select. It can play these pictures back in sequence so that a move of the past activities are displayed.
---
Display TOPO
A new option for 3D is the ability to turn TOPO (land) off. This allows the shallow waters to be displayed in better detial.
---
Speed limit added for P-SeaBed Builder
If you loose your bottom reading from your depth sounder at high vessel speeds then you can set this so that the depth is not stored for the P-SeaBed Builder when the vessel exceeds the set speed.
---
---

Back to P-Sea Software Home page

webinfo@p-sea.com