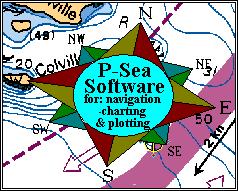 Brought to you by P-Sea Software Co. USA
PO Box 1390
Morro Bay, CA 93443
Ph.# (805) 772-4396


---
P-Sea WindPlot Version 7.20 & 7.21 features


7.20/21 Features PDF 7.20/7.21 feature & instuctions document
Started 5/1/09
1)...3D: Track point editor, especially made for 3D BottomBuilder program.
2)...P-Sea Radar: BSB chart display/overlay added to radar screen w/chart rotation adjustment too.
3)...Changed track draw so most current is displayed on top.
4)...C-Map: Chart adjustment added.
5)...3D P-Sea BottomBuilder now will save which tracks were made to rebuild bottom by adding 3D to track description.
6)...Program now picks best chart when two charts have same scale.
7)...GPS/COM ports are automatically scanned for when no GPS is detected after one minute of starting WindPlot.
8)...Two color gradient added to multi-track color bar.
9)...BoundryBuilder: Added "Export as mark boundary" to allow using boundaries from WindPlot 2 in WindPlot 1.
10)...BoundryBuilder: Added Node Editor now asks if you want to change LL or delete current node.
11)...BoundryBuilder: Added right click on node to insert one in-between another.
12)...3D: Added overlay adjustment to 3D directional lighting adjustment window.
13)...Mark Search & Edit window: added "Change group of marks" for RB, on/off, color and shape.
14)...3D: Added "D" (on Range box) and "I" (on Scale slider) buttons to allow switching between 3D dependent and independent modes.
15)...P-Sea FishFinder: added Span Up and Span Down to two-monitor span buttons.
16)...WindPlot checks for read-only files when started was moved to after WindPlot is started so don't have to wait and a check box was added to start up dialog box to turn scannin off.
17)...Option added to track list to display tracks past 100nm range.
18)...Added "Show Erased" check box to track list to display erased tracks.
19)...Added un-erase to Track Search & Edit list "Recovery" menu for track that were erased.
20)...Added "w/Dots" check box to boat icon selection that will display both flashing dot AND the pointing boat icon in WindPlot's "Heading/PP indicator menu.
21)...Chart background now black when changing charts so no white flash at night.
22)...Show marks greater than 50 and 500 menus added to Mark Search & Edit.
23)...Cursor box and printing made bigger added button seperate Cursor Off and GO TO buttons.
24)...Added right-click feature to toolbar to turn marks, tracks, routes, waypoints, MOB and anchor watch on and off.
25)...Mark options that was in the Window menu moved to the Mark Search and Edit menu bar as "Display Options".
26)...Added "Auto Enter" to TD calibration box. This will put the current TD #'s in the TD calbration match PP routine.
27)...Waypoint origin Auto-Reset question added "Reset Origin" button where the WP origin is reset each time screen is redrawn.
28)...Stellwagen chart names will now appear on chart buttons below then range button on plotter screen.
29)...Timer added to New Mark window so that a mark is made after 1 minute if nothing is done.
30)...Rename for Multi-Fishing area at WindPlot startup added including the "Default" area.
31)...Dithering added to BSB and bathy. chart draw to improve display of charts on all ranges (except BSB4)
32)...Free charts from NOAA website will soon not have to work in BSB4 mode.(after 12/20/09).
33)...3D: Added cursor pan arrows.
34)...Chart selector buttons (below range button) are now numbered (or lettered when C-map charts are used).
35)...New buttons now appear in Cursor box when cursor is place on a mark or track to allow you to erase them.
36)...Added "No Jump" check boxes to Mark/Track Search and Edit menus to disable jumping to them when in plotter screen.
37)...3D: High Definition (HD) charts now available for certain areas (see 3D chart list).
38)...3D: High Resolution charts (w/HD files) now supplied with any new 3D program on DVD's.
39)...Look-Ahead button added to the toolbar that switches in and out of Look-Ahead mode when clicked.
40)...3D: Waypoint line added.(Boundaries will be added later).
41)...Mini-Chart box: Major improvements all over: more accurate when used to jump and better detailed chart with waypoint and boundaries drawn.
42)...Mini-Chart box: right-click to bring up menu to change it.
43)...Program will now look for BSB charts downloaded from free NOAA chart website and move them out of the individual folders to the BSBCHART folder when clicking the AUTO-FIND button.
44)...Mini-Chart box: move or resize arrows added.

---
P-Sea WindPlot 1 users NOTE: This is considered an upgrade from any version less than 7.0x at a list price of $100.00 USD. A key (dongle) exchange is NOT required for Navionics or P-Sea keys. Ask your local P-Sea Dealer for details.

---

Keep checking this web page for the latest developments.


---

Back to P-Sea Software Home page

webinfo@p-sea.com