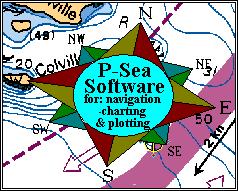 Brought to you by P-Sea Software Co. USA
PO Box 1390
Morro Bay, CA 93443
Ph.# (805) 772-4396


---
Demo Download page!
---
(See our product pricing, dealers, chart list as well)

Download this file WPDEMO1.EXE (approx. 3 Mbytes) to get the demo setup program. This is a self-extracting file that starts right away. You can either run right away to watch the demo or put it onto a flash drive to give to your friends. Just double-click the downloaded file or choose RUN to see the video.
---
NEW: download the following MOVIEs to see some of the features of the program in action as they are explained.

P-Sea FishFinder AVI video for Windows media player P-SeaFFdemo.AVI 9mb A full color fish finder+ (Option with bottom hardness and roughness).

AIS option demo AISdemo.exe (approx. 4 Mega bytes) This option shows other vessels with AIS position reporting devices.

3D option demo Demo3D.exe (approx. 28 Mega bytes) See how our 3D option works.

RADARpc option demo RADARpc_Demo.exe (approx. 40 Mega bytes) Radar chart overlay option with ARPA vessel tracking features.

RADARpc demo w/new features like real mode RADARpcDemo2.exe (approx. 20 Mega bytes)

Fishing logbook (included w/windplot LogBkDemo.exe (approx. 4 Mega bytes) NOAA developed fish logbook.

C-Map charts demo CmapDemo.exe (approx. 10 Mega bytes) See what C-Map charts look like.
We are just testing this demo download so please E-Mail us with any comments you have on the installation or the demo itself (good or bad).
---

Back to P-Sea Software Home page

webinfo@p-sea.com