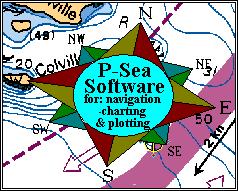 Brought to you by P-Sea Software Co. USA
PO Box 1390
Morro Bay, CA 93443
Ph.# (805) 772-4396


---
Version 7.0 (P-Sea WindPlot II) features



Note: P-Sea WindPlot 1 users: This is considered an upgrade at a list price of $100.00 USD. A key (dongle) exchange is NOT required for Navionces or P-Sea keys. Ask your local P-Sea Dealer for details.


---
Night view
Just Added 08-15-03 - Finnaly what everybody has been asking for: P-Sea WindPlot II will now dim the screen for night/day views.
---
Boundary Builder
It allows you to enter create boundaries with names using the plotter screen to drag and drop corners. You can also select points from the Mark Search and Edit in WindPlot II or enter corners in Latitude/Longitude. You can even enter in TD's but be aware the corners are not calibrated like Marks are. The program can be setup to alarm on the boundaries too.
---
Tide program included for FREE.
Tide is no longer an option and is now included with verson 7.+
---
P-Sea Radar Option
P-Sea WindPlot II can now interface with Koden/Sitex line of PC radars. With this feature you get a working color radar with chart overlay and ARPA option.
---
P-Sea 3D Seabead Option
P-Sea WindPlot II can now display the seabead in 3D. Even better than our famous bathymetric charts these 3D show more and it also allows you to buid your own 3D or modify the existing 3D data base for accuracy.
---
Other features include a units converson window for converting feet to fathoms or any unit of measure. Position can be changed to readout Lat/Long in Degrees/Minutes/Seconds or Degrees/Minutes. Range can be calculated in either nautical or statute miles. JRC bottom hardess option allows you to get a recording of the type of bottom. BSB region marks now display on screen. Canyons, beaches and other points of interest are displayed.


---

Back to P-Sea Software Home page

webinfo@p-sea.com