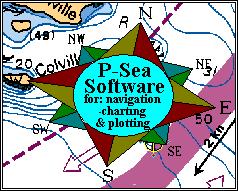 Brought to you by P-Sea Software Co. USA
PO Box 1390
Morro Bay, CA 93443
Ph.# (805) 772-4396


---
P-Sea WindPlot II (or MAX) and other News


This section of our web give a historical view of the new features and stages of P-Sea WindPlot II/MAX development and a guide to what is included or not included a users current version. It does not explain in any detail where find them or how to use them.


---

Version 7.29

New Program "P-Sea MPA Importer" added since NOAA has a web site with most all MPA and more in Shape-File format. This program will convert these files to work with WindPlot.
GPX track and mark import/export improved.
7.29 detailed feature PDF document - CLICK HERE


---

Version 7.28

Sizeable ARPA labes print. Track text export improved.

Added GPX file import. New program "P-Sea Radar" for stand-alone radar opteration.



---

Version 7.27

Program now remembers postions of window screens when using multiple WindPlot windows like P-Sea FishFinder and P-Sea 3D.

You no longer have to have tracking turned on the get AIS/ARPA CPA. Improved COM port window NMEA data search.

VMS track PDF import added. Two new types of boundary builder addded.

AIS Ship-type colors added.
7.27 detailed feature PDF document - CLICK HERE


---

Version 7.26

Was reworked for Windows 8. No new features



---

Version 7.25

The Navionics card reader is no longer required to run thier charts.

We not have AIS targets to display in mini-chart window. Hide trails of AIS targets.

Universal Mark TEXT import added.
7.25 detailed feature PDF document - CLICK HERE
---

Version 7.24 In this version we have added total touch screen support, just click on "Window" menu then select "Window Fonts & Units" then check the "Touch screen mode" check box.
We have also updated and improved the 3D Option for P-Sea WindPlot per our users suggestions. Some of the improvements are:

Build-as-you go. (P-SeaBed Builder not required)

Tracks with hardness values will now overlay on the 3D screen

Displays actual mark symbols in color

Click on marks to get mark info from the 3D screen

Mouse deactivation of 3D picture rotation and zoom

Panning arrows added to 3D

Displays routes, waypoints, boundaries, RB flags and mark names on 3D screen

Now includes a continious 3D world chart when ranged out past 15 miles (regional 3D chart still required for ranges below 15 miles)
7.24 detailed feature PDF document - CLICK HERE
---
Version 7.23 release
Device manager shortcut button added to Adj.COM window to go
Magnetic variation window improvements
Advanced panning arrows added to main plotter screen
Alternate GRI delay added for the 9960 Loran-C chain
---
Version 7.22 release
Optional Loran-C ASF correction table for TD to GPS L/L accuracy
Alternate COM Port driver added
C-Map charts can now be dimmed
Move calibration points from one BIGTD file to another
---
Version 7.20 & 7.21 release
Waypoint origin auto-reset
Right-Click tool bar to turn tracks, marks and other functions on and off
Display tracks past 50nm and 500nm options
Change groups of marks at a time
With DOT added to boat icon selection to have both boat AND flashing dot
List Erased tracks check box added to Track Search & Edit list
Several optional Track Multi-Color bars added
Boundary builder will export boundaries as linked marks to work in WindPlot 1
Printout boundary list added
Auto-Comport and GPS scanner added when no GPS data detected.
Mini-chart box improved with boundaries, waypoints and BSB chart thumbnail generation
NOAA charts can now be downloaded directly from the NOAA web site for the most up-to-date charts. Find Chart button will import NOAA charts to the proper location for WindPlot
---
Version 7.19 release
Further Vista adoption
Tracks can record time as well as speed
Turn off alarms by right-clicking on alarm icon
TD grid line numbers are sizeable
Monthly High/Low Tide Table Printout
Compass rose prints on skewed charts to note charts northern orientation.
Class B AIS support added
High/Low WindPlot L/L resolution now checks for valid data and attempts to correct if there is an issue
Crab watch changed to Watch Alarms
Distance timer added to timer functions
Added Hide Graphs to FishFinder
---
Version 7.18 release
---
Version 7.17 release
Color fill in for Boundaries
---
Version 7.16 release
Waypoints are now in separate window and not related to marks
WindPlot screen remote display for radar TTM sentences
With improved C-Map charts, new serial interface should eliminate COM issues and improved Vista support.
See all C-Map Vector Charts stuff - CLICK HERE
See all Navionic Vector Charts stuff - CLICK HERE

---
Version 7.15 release
C-Map charts introduced
Track multi-color mode for bottom characteristics uses
Tide time offset for C-Map tides
Erase track button replaces dead reckoning button on tool bar
Fish 12 data import added
Lost NMEA data/not moving warning added
Rotate 3D picture (P) or 3D boat (B) buttons added to the 3D rotation scroll bar
US map added to 3D chart List to show 3D coverage better
Reset to factory settings added to debug window
Scaling arrows added to control size of radar overlay on the plotter screen
Delete points from tracks on plotter screen using cursor
Add L/L offsets to tracks and marks
---
Version 7.14 release
Color P-Sea Depth Sounder available now!

Click here 7.14 features for more details
---
TOUCH SCREEN ADD ON WEB LINK
http://www.touchscreens.com/


---
3D detail and overall performance has been improved.
---
Sitex Fish 12 data to P-Sea WindPlot conversion now available!
Send us your Fish 12 floppies to have them converted to work with your WindPlot program.
Be sure to mark your package MAGNETIC MEDIA ENCLOSED-DO NOT X-RAY! when you send them.
---
New AIS Receiver Black Box for $399.00!

Be Safe! Monitor where the Tankers are w/WindPlot II!
This is an inexpensive AIS receiver that will send AIS data to P-Sea WindPlot II. AIS provides information on other ships that are around you that are equipped with AIS. P-Sea WindPlot II displays this information as a pointed icon. The size, color and direction of this icon lets you know in an instant the vessels position, speed, heading and size. Further information like vesselís name and call sign can be displayed by just placing the mouse arrow on the icon. W/GPS connection so no extra serial port is required. Just add a VHF antenna and 12 volts.
---
NAVIONICS CHARTS FOR WINDPLOT II ARE NOW AVAILABLE!
It has been a long tough battle but we can finally announce that the award-winning Navionics GOLD XL3 series of GLOBAL vector charts are now available from Navionics (SAMPLE 1). There are important advantages of these charts over the raster scanned charts such as BSB4.
They cost less per area covered.
They are layered meaning you can turn off any feature of the chart.
They cover more of the world.
They do not require activation.
Please go into your local P-Sea Software dealer and ask for a demonstration of these new charts. You will need to update or upgrade to version 7.09 in order to display them.
---
WindPlot II Demo CD has been updated as of 2/22/05. We added:
a real radar demonstration with GUI made for touch screens,
a 3D demonstration,
a Navionics vector chart demonstration,
a AIS display demonstration,
and a Fishing Logbook demonstration,
---
Version 7.12 (in development) This version will have greater 3D detail for improved display at lower ranges.
---
Version 7.11 is available now! 5-2-05 7.11 will have AIS interface. All AIS vessels show on the plotter screen displaying such things as heading, speed, range, bearing, navigational position and status plus more. (Any new programs sold from 4-18-05 to 6-1-05 the AIS option will be free.)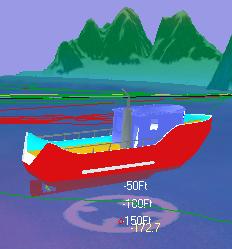 Transducer shadow has been added to 3D to show swath of transducer on the bottom &
New 3D boat icon show here,
BSB4 skewed charts now work with WindPlot,
Improved Navionics chart display (centering) and works with look-ahead mode now,
Improved BSB/Softchart display (centering so no more on edges of charts),
Pitch and Roll sensor for better 3D bathy generation (expermental),
Forced Range mode that keeps a range no matter what chart your on,
Lat/Long text import added for marks.
---
Version 7.10 was released on 2/22/05
7.10 has a new graphics user interface and real motion radar to this version. Also, NOAA overhauled the workings of the fishing logbook. It also has increased track durations by adding 2 second and .003 mile duration selections.
---
Next on the list is Version 7.09
Version 7.09 will feature Vector Bathymetric Charts (SAMPLE 1)/(SAMPLE 2) We are vectorizing our bathymetric charts. The advantages of vector bathymetric charts over our already popular raster bathymetric are:
the clarity when zoomed to small ranges,
each line is in a different color,
depth units (fathom/feet/meters) are selectable,
and they are always marked with the depth.
AIS is next on the list of new items to work on. Then a new voice interface will be developed to all with one radar! Of course there are still the standard radar/chart overlay, ARPA tracking, and assorted alarm functions as well.
GLOBE Mark Import
Temperatures are added to the logbook.
An ACT temperature interface has been added to the logbook that will place an average temperature from a SS probe that attaches to your gear into the logbook. These downloaded temperature data can be displayed in a graphical form.


Phases of the Moon have been added to the logbook.
A graphic display of the phases of the moon along with the number of days until a full or new moon have been added to the Fishing Logbook.


Game controller interface has been added.
Adding game control allows the use of two external buttons to make marks from anywhere onboard. (It is not necessary to Purchase of 3D activation code in order to use this option).


Joystick control added.
Adding joystick control allows the joystick to be programmed to control many functions in WindPlot such as making marks and turning the cursor on and off. Also, when the 3D activation codes have been installed this gives better control of the 3D screen.

---
The new BSB4 format is available now.
Maptech announced that Ver. BSB4.0 will be released after Jan.1, 2004 but their supply of the older version has run out and now only the new BSB4 is available at the new domestic list price of $249.95. You will need the new version 7.05 P-Sea WindPlot II in order to display these charts. Check with your dealer for updates. Please note that Maptech will require registration of BSB4 and this gives a LICENCE FOR ONLY ONE COMPUTER! This means that if your computer goes, you may have to buy new charts. This is not so for the current 3.4 version. The good news is the new WindPlot will be compatible with the Maptech Nav Photos AND current WindPlot II users can update free of charge! WindPlot 1 users will need a $100 upgrade.
---
Three new features will be coming soon:

A Fishing Catch/Effort logbook will be incorporated into WindPlot II,
AIS (automatic identification system) option will be added to WindPlot II, and
a higher resolution 3D charting system with up to 10 times the present resolution.
---
3D World Charts
World wide 3D coverage for the WindPlot II 3D option became available on 11-24-03. This 3D chart will appear on ranges over 50 miles and comes FREE with each 3D option purchase.
---
SoftCharts Compatibility
Version 7.03 of P-Sea WindPlot II was made compatible with SoftCharts on 10-29-03.
---
Night view
P-Sea WindPlot II has provided for dimming the screen for night viewing since 08-15-03.
---
P-Sea WindPlot II is now out of BETA.

P-Sea WindPlot II has been out of BETA since 8-12-03. Master Update CD's go with all orders from P-Sea Software dealers. This CD also contains a 3D DEMO. Contact you dealer for your upgrade.
---
Dual Video Screens!

We have tested the program using dual-VGA video screens with Ge-Force4 model MX440SE video cards by eVGA.com Corp.
P-Sea 3D SeaBed Option<--click to see sample of DUAL VIDEO screens.
---
NOW TESTING!

P-Sea WindPlot II can now display the sea bed in 3D even better than our famous bathymetric charts. These 3D charts show more and they also allow you to build your own 3D charts or modify an existing 3D data base for accuracy.


---

Back to P-Sea Software Home page



webinfo@p-sea.com